How can you apply artistry light-up lip gloss?
Have you thought about applying artistry light-up lip gloss? The light-up lip gloss will be the key to your makeup. Because of its various colors, you will have multiple choices. Thus, that is a very personal question. Here, I'd like to introduce some lip glosses that look great on every person. Also, some simple steps to lead you to apply the light-up gloss for you.
Why do you need artistry light-up lip gloss?
First, light-up lip gloss is difficult to get wrong. If your lips are easy to get dry and crackle, you can apply lip glosses not only to give your lips a shiny glow but nourish and hydrate them. Additionally, if you want to have special makeup, you can apply artistry light-up gloss to add some different styles to your makeup. Also, it provides your lips with glamour with long-lasting time. I recommend the following lip gloss color for you:
The brown, golden, and clear lip gloss. The brown can add a warm atmosphere to your makeup, especially when autumn and winter. The golden can add gorgeous style if you like it. Last, the clear one remains the pure color of lips but adds gloss to your lips.
How can you apply artistry light-up lip gloss
#1: Makeup tools
If you are not confident in your lip makeup skill, some makeup tools will be a big help for you. Lip brush will be the right makeup for you. It has different sizes, so you find one that is good for you. By the way, the lip cannot only help with applying lipsticks but blending eye shadow. Thus, it is a tool with multi-use.

#2. Choose colors
The colors of lip glosses are various. Generally, lip gloss can hydrate your lips and make you have shiny lips. Besides the common red colors, you also can apply clear lip gloss, to add your lips shine and lustrousness. The clear lip gloss is just like the clear nail polishing to add glamour in the simplest way.

#3. Let's make up
Before applying lip brush, please ensure that it is clean, especially when the color of lip gloss or lipstick is distinguishingly different. Then pick up a small part of lip gloss on the center of the upper lip and blend it outward. Repeat this process, and finally, have a clear lip line with the top of the lip brush. If it is necessary, you can repeat the process until you achieve your satisfaction.
You also can first draw the line of lips with the tiny lip brush, then apply another bigger lip brush to blend the colors. If you don't like obvious lip lines, you can blend them a little with your fingers or lip brushes.

#4. Combine with lipsticks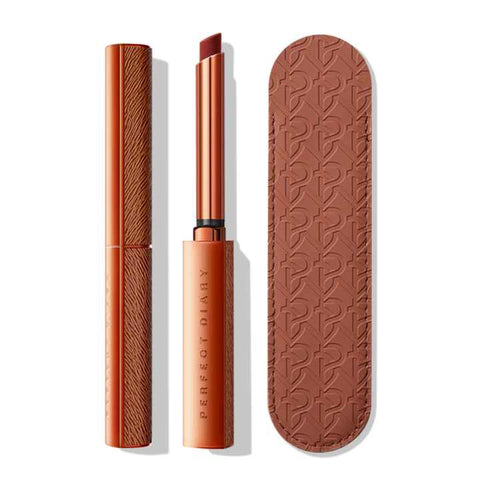 When a single lipstick cannot satisfy your needs, you can combine it with lip glosses. After applying lipsticks, you can pick a lip gloss in the colors you like, to nourish your lips. Additionally, it will deliver a glamorous and lustrous lip look.
If you think your lips are thin and small, don't worry, pick a little lip gloss on the middle of the lip peak, it can help you have plump lips.
Product recommendation
Beauties who are interested in artistry light-up gloss, I recommend the following products for you. They can nourish your lips with beautiful colors and lip brushes won't be necessary for you because they contain applicators.
The first one is The Perfect Diary floating light-up lip gloss. It is a refreshing lip gloss that delivers a long-lasting shine with a non-sticky effect. The package is also very special, like a piece of paper. The colors 101 and 103 are good in every beauty, even without makeup.
The second product is The Perfect Diary gilded high-shine lip gloss. If you want to try some new colors on your lips, you won't miss it. It has a golden-brown color for different skin tones and lip colors, both practical and playable. The lip gloss colors create a fall and winter atmosphere. You also can combine it with other lipsticks in different colors.
After reading it, do you have any idea about artistry light-up lip gloss? You must have more interest in lip gloss. We hope this article can help with your make-up. If you have any questions or suggestions, please do not hesitate to contact us on the website.
---