How to Find the Best Brown Eyeliner Pencil for Every Eye Color and Tips to Apply
The best brown eyeliner pencil demonstrates to be the ideal transitional hue that mysteriously works on everyone. Brown eyeliner is the gentler sister to its harder-edged counterpart, black eyeliner.
Contrary to jet-black liners, which may occasionally come across as a little harsh, lining your eyes with a solid chestnut, chocolate, or deep bronze shade gives your eyes that extra oomph. Browns may read smokey yet easy, and powerful but not garish, depending on the look you're striving for. It's essentially the foolproof prerequisite for eye makeup.
The best brown eyeliner may really provide you much more artistic freedom to play with your makeup and improve your entire look, even if most people consider a black eyeliner to be a crucial part of their routine. Some individuals like the buildability that brown liner gives over the more visible black liner. Brown liner provides some people's makeup a softer, cozier, and more subtle appearance.
Finding a pigmented formula that suits your fancy is quite simple, much as finding a shade of eyeliner that suits you. Retractable pencils and liquid eyeliners are only the beginning. That being said, selecting a long-lasting liner with a no-skip, smudge-proof formula is a necessary, regardless of the texture or shade of brown you choose.
The most crucial factor for the best brown eyeliner pencil is pigment, and the eyeliner should glide over the skin gently to prevent too much strain on the eye.
What to look for in brown eyeliner?
Pigmentation is important when looking for the best brown eyeliner pencil. To determine how effectively the liner will show up on your eyes, you should consider the pigmentation. Pencil liners can be smeared or smoked out to create a softer look if you're going for a more understated impact. Liquid liners, on the other hand, frequently offer high-impact pigmentation, which is fantastic for anyone seeking a more dramatic appearance.
When selecting an eyeliner, the texture is another thing to take into account. Gel liners, for example, have a creamier texture than others and may slide across the lid more easily. Parkes loves to use gel liners in particular since they move freely and are simple to take off.
How do you apply brown eyeliner?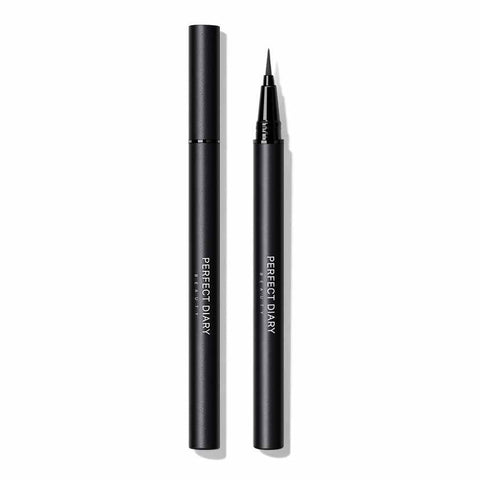 Like black eyeliner, brown eyeliner may be applied in a variety of ways. To tighten the line of the eyes, use a brown pencil or crayon. Applying the pencil at an angle into the lash line can assist to provide a subtle definition and give the appearance of thicker lashes without making it appear as though eyeliner is being used. If you've always thought black eyeliner was too overpowering, tightening with brown liner produces another look that you'll probably find more attractive.
Brown eyeliner is fantastic since it doesn't require too much precision, and you can achieve a smokey, smudged effect by simply blending it with a pencil brush. Start by drawing a tight line, but if you want a stronger effect, pull the brown liner into a wing while keeping your eyes open to add more form.
If you think this adds too much product, place a good quantity of it on the back of your hand first and use a tiny, angled brush to apply it along the lash line, building it up to the right thickness.
Naturally, felt tip pen applicators for brown eyeliners are also available; they may be used to create a cat-eye wing or a more conventional thick line. Even if it does require a steady hand, any mistakes in the form will be far less obvious than they would be with black eyeliner. Additionally, the overall impact will be subtler.
Who suits brown eyeliner?
The warmth that brown liners add beautifully complements the hues of our eyes. A brown eyeliner may serve the same purpose as brown eyeshadow in terms of enhancing the color of your eyes. Even if your eyes are already brown, it can really bring out any gold or green specks that may be present.
If you're anxious about applying eyeliner, regardless of your skin tone, it's advised to attempt brown eyeliner because it's far more forgiving than black eyeliner, which requires an extremely exact application. The versatility of brown eyeliner makes it ideal for anyone who is unsure of their cosmetic skills.
---