How to get your face glitter? The shiny cosmetics you shouldn't miss!
Most girls couldn't resist the charm of face glitter. Those glittering cosmetics are applied to our eyelids, nose, cheeks, and lips, as if our faces were adorned with diamonds and stars. How do we get the shimmering effect on the face? There are usually two ways to get a natural and glamorous glitter look, one is to apply glitter eyeshadow, highlighter, and glossy lip gloss. The second is to use cosmetic grade glitter and paste it on our face to achieve a more exaggerated and eye-catching effect.
In this post, we will focus on how to make our face glitter with cosmetics. Such makeup can match more scenarios in life.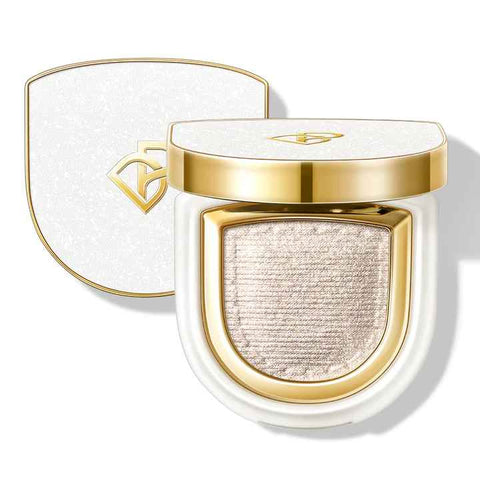 Moonlight Like Eyes: Haute Couture Single Eyeshadow
This single eyeshadow from Perfect Diary has dense glitter that covers your eyelids like broken diamonds, giving your eyes a glamorous and prominent shine. Also, this eyeshadow can be used as a highlighter on the cheeks or other areas of the face to achieve a shimmering effect.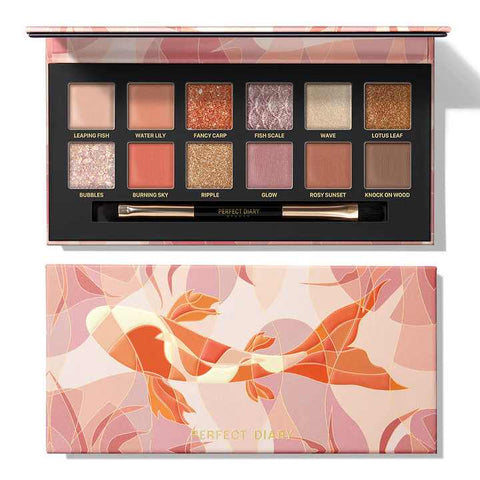 You can also use it with the colorful Explorer Eyeshadow Palette collection of various eyeshadows to create more eye makeup inspirations. This single eyeshadow can be paired with any of your matte, or other eyeshadows, and is very compact and easy to carry. If you want to lighten up your eye makeup, don't hesitate to go for it.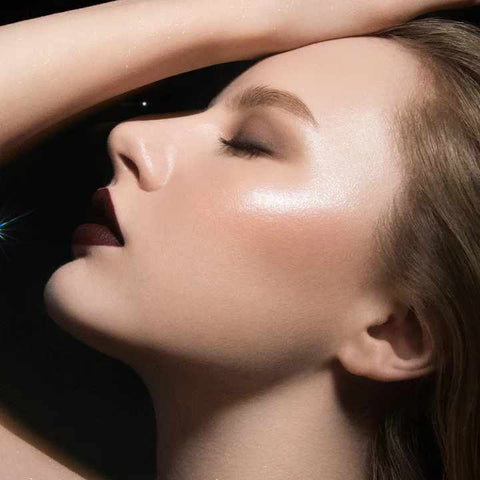 Silky Glowing Cheeks: Star Dust Diamond Highlight Powder
When you see this highlighter, it comes in a box like a star. The fine powder and shimmer apply to your nose and cheeks for a silky-smooth experience and premium shine.
When choosing a highlighter, pay attention to the color of the highlighter and the skin tone to be able to match. For example, if your skin tone is more yellowish, then you can choose a highlighter that is off-white. If your skin type is dark, you can choose a brighter color for your highlighter.
Where can I apply highlighter to make my face glitter more?
Highlighter is usually applied to the cheekbones or T-shaped area. Using a makeup brush dipped in white highlighter, you can rub it on the back of your hand first to sweep away the excess amount of powder and then start applying it on your face.
Sweep the makeup brush dipped in highlighter across the forehead to distribute it evenly, keeping the intensity light and not smearing too much at once, otherwise it will feel greasy. The underside of the eyes is most prone to dullness, so it also needs to be touched up with highlighter. Next is to the nose, sweep a thin layer of highlighter along the nose, from the top down. Finally, using the remaining powder on the powder brush, just lightly dab it on the chin.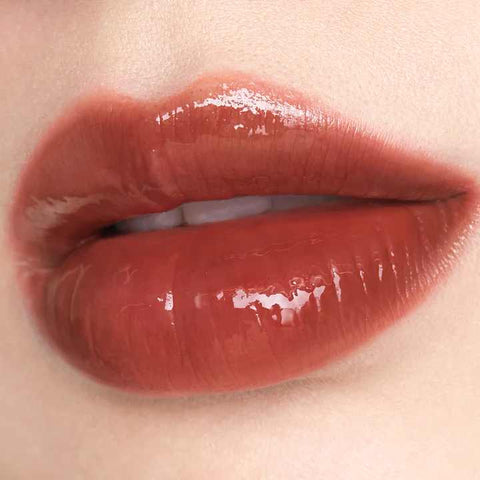 Absolutely Shiny Lips: Floating Light Lip Gloss Heartbeat Collection
Lips are also the focus of our glitter application, which is sexy and striking. The lip gloss of the collection is a reddish-brown color, elegant and classy. It comes with a matte texture, yet it is very moisturizing and shimmery.
Usually, we just need to apply it directly with lipstick to achieve a great effect. But if you want to get a more perfect lip look, you can first use a concealer to cover up your own lip color and lip lines, before covering it with a layer of lip balm and finally applying lipstick.
More about glitter
If you are looking for a more exaggerated makeup effect, or if you are planning to go to a certain party, you can glue special glitter on your face. This glitter is made of foil such as ultra-thin plastic or polyester film. It is coated with pigments that are safe to use in cosmetics and then cut into thousands of small pieces.
But it is important to note that we need to buy glitter for makeup and not plastic glitter from ordinary craft stores. Cosmetic grade glitter has a higher safety rating and will not cause too much damage to our skin when used sensibly, while industrial glitter may be used more for merchandise, and it is not suitable for applying on the face.
Final words
Glittering cosmetics give us more inspiration and make our makeup stand out enough. But if it's just an everyday makeup look, we don't need to make our whole face sparkle, that's too much attention. We can emphasize the eyes, or the glitter of the lips as the focus, that will be more glamorous.
---