Curler your eyelashes
Before using mascara, you need to curler your eyelashes with an eyelash curler. Start from the root with an eyelash clip, and gradually reduce the strength. The eyelashes in the inner and outer corners of the eyes need to be more careful. In the end, use mascara to shape the eyelashes.
Mascara
In the creation of eyelashes, not only the length and density are pursued, but also for wispy lashes, they should be light, natural and slender like feathers, so that the eye contour can be well modified.
> The unique slim-type brush reaches and grips even the tiniest hairs, resulting in gorgeously distinguished, out-to-there lashes.

> The ultra-fine brush head is designed for the precise positioning of each lash.

> With lengthening and curling formula, the mascara keeps straight lashes curled zero flakes and clumps.

> Waterproof, sweat-proof and smudge-proof.


Eye makeup
Before eyelashes, you can finish your basic eye makeup. Use concealer to cover your eye dullness and small blemishes, Then choose an eyeshadow palette to create your today look style.
> Moisture texture: creamy and smooth, won't flake or crease

> Blur skin imperfections and creates a natural makeup

> Three shades: meet the requirements or different skin tone

> 100% suitable for smoky eye looks: uniform earthy tones with different textures, including matte and preadolescent, are the best choice for creating smoky looks.
> Self-Setting Formula:with the Amino acid wrapping technology* (the same amino acid as the one in your skin) applied, the powder is ultra-fine, silky, and easy to blend, transfer-proof, and long wear for 10 hours.
> Exclusive & Convenient - Natural gemstone-inspired packaging with unique raw-gemstone-like texture and luster, highlighting exclusive texture, lightweight, and easy to carry.

Eyebrows
Eyebrows are also essential for eye makeup and this powder can meet the choice of girls with different hair colors. If your hair color is light, then use a light brown brow powder to groom your eyebrows, and vice versa if your hair color is dark, choose a dark brown.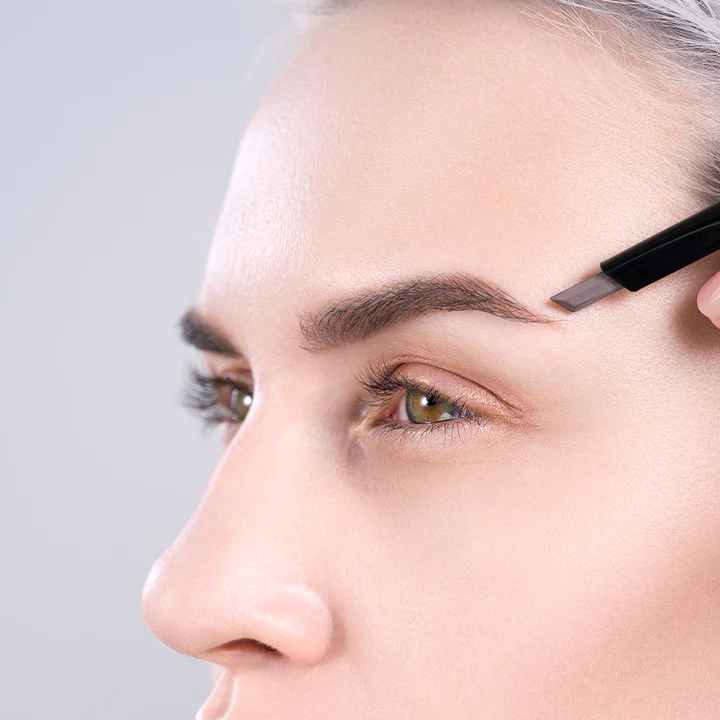 > A palette of 4 natural and easy-to-wear colors:high-light powder, nose shadow powder, and dark shades for eyebrow.
> Waterproof Formula: The creamy formula glides on skin and hair smoothly and won't fade.
> Easy Application: Stays put even on oily skin or in humidity.
> Portable and practical: The practical 4-in-1 eyebrow kit contains a mirror and three brushes, making it possible to retouch your makeup at any time.